Starting a clothing business online involves several key steps. First, you need to identify your target market then sources to create your products and develop an online store.  It is important to apply marketing strategies to drive traffic to your site and social media. Make sure to establish a strong logistics and fulfillment plan, including shipping and returns policies for smooth operations. At last, be prepared for customer feedback and market trends to improve your business continuously.
Clothing Brand Online vs. Offline
Clothing Brand online vs offline is a very important comparison for startups to know — after all, in this new era eCommerce playing a vital role in the field of businesses and clothing stores — but we need a strong comparison to decide the best startup.
It is a fact that the majority of sales still happening in the retail environment. However, the position of offline stores has been weakening. On the other hand, the eCommerce trend is growing every year and holds 27% of the market.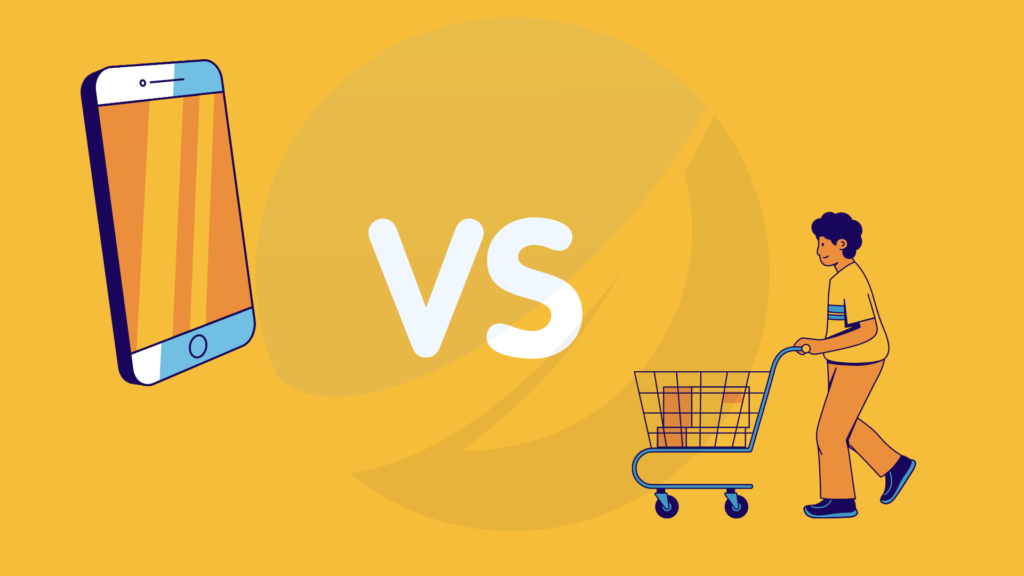 Another research shows that 67% of kids and 56% of adults prefer shopping online and these online stores hold a huge amount of potential customers. Only 18% of physical store holders say that they don't purchase online and just 6% of retailers don't buy online. The majority of people shop online every month than in traditional outlets.
The prominent advantage to open an online brand is, of course, the minimum initial investment. It is possible to establish an online store in days or weeks while starting a traditional shop can take a huge amount of investment and a lot longer time.
Average clothing brand needs $30k to $100k, while online clothing brands requires very little in comparison. Further, an traditional environment needs employees, a limited timetable, loop expenses, renting and other requirements.
You need to start any type of business, especially clothing brands physically or online as soon as possible because it's not too late now.
How to Start an Online Clothing Store – Steps
Choose a clothing niche
Make a business plan
Find domain name & hosting
Choose an e-commerce platform
Publish and market your store
Tips & Trick
(1)- Choose A Clothing Niche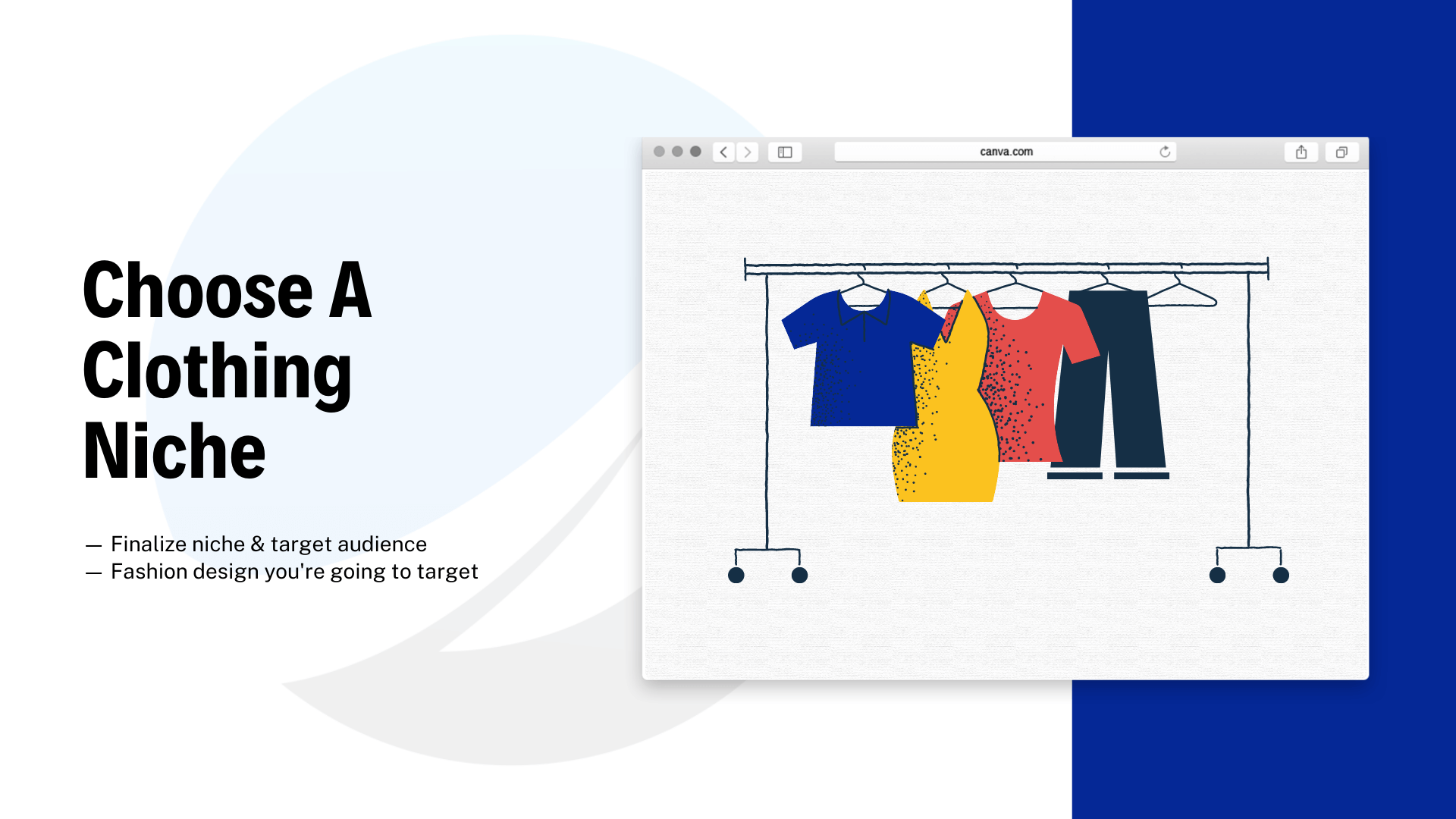 The clothing brand business is becoming a trend in Pakistan and all over the world to start your own fashion clothing brand. Here are some best of guidelines to start a clothing business that will escalate your understanding of the queries in your mind for how to start a clothing brand in Pakistan.
— Finalize your niche and your target audience:
Once you are clear with what niche and age group you are willing to target to start your own fashion clothing brand it would be much easier to build the next roadmap towards your online clothing business journey. When you are clear with the target audience know their needs as well. Listening is the most important in any kind of business. Listen to your target audience so that you may talk in their language to convince them to buy your products. Listening is the first step for having the best communication.
— Which fashion design is you are going to target:
Another important query you need to clear with yourself is which category of fashion design you are going to target. Is it a regular wearing design or party wear design or unstitched designs or ready-to-wear design? Decide your fashion design and don't overlook the creativity even you are targeting regular wearing designs.
(2)- Determine Your Business Plan
— Follow an iconic ideal in similar clothing business roles:
Before giving some guidelines reach out to some people and meet them in person if you know them personally. Even if you don't know them personally thanks to this technology era.
Go and explore the iconic top 10 fashion brands and read their success stories make them virtual mentors.
— Proactive preplanning of clothing business:
Preplanning of roadmap for how to start a clothing brand in Pakistan. Set a mission and measurable goals.
Make a plan to reach your goals.
Make the best strategies to reach your best potential in the clothing line business.
Also, set actionable goals and work for them.
Also include some sketches of your outfits' designs in your preplanning. Preplan from where you will get raw materials.
Also, create some best samples to showcase your fashion work. Prioritize the steps you want to follow in your business plan and don't compromise foremost important considerations for starting your own fashion brand.
Keep in mind you have to make a deal with the best manufacturers. So do start to network with manufacturers. Consider the main skills you want in the manufacturer. Interview the manufacturers and ask them questions about which queries you want to clear about. Search more and more and explore the best of manufacturers.
— The most important and origin point is Investment:
So, let's get started with some proficient guidelines. How much investment is needed to start your own online fashion clothing business? And how to invest for such cause are important queries. It is crucial to take initiative at a small scale with minimum investment.
It is a good option to experiment with a new clothing business with the minimum investment so that for next time you can make up your deficiencies and learn from them to gear up to start a clothing business.
— Assess premium standard raw materials and pricing of your brand:
Here are some sayings about the quality's importance.
"Quality is never an accident. It is always the result of intelligent effort."
To make a balance between price margin and quality. It takes effort to make a healthy balance between two of these.
It is all authentic raw materials that add attraction for customers. Because along with a creative brand a quality brand is all that they need.
— Hit and trial for exploring good and skillful tailors
This step must not be overlooked. Explore by hit and trial method a skillful and creative tailor who can make finished clothing products from the best raw materials provided.
Eliminate the manufacturers that are not suitable according to your requirements. Hunt the best of manufacturers who are good at creative designing to start a clothing business. Make an honest deal with the producer. Put your all needs before them.
Don't compromise what you want to give to your customers in your product.
Network to have the best producers who can fulfill the demands of your brand. Never overlook the small details your customers need. Believe in fulfilling the small and basic needs and even the maximum needs of your target customers.
Have strong faith in doing and fulfilling small details in an extraordinary and exceptional way. Go the extra mile to find best producers to make reach your brand at its maximum potential.
Manufacturing is a long journey from buying quality raw material, designing, cutting, stitching to finishing product approval. You will need patience to get quality products.
Designing is crucial.
Never overlook creative designing skills in a producer. Keep in mind this skill while finalizing a manufacturer or tailor. Keep redefining the changes in your products. Always keep improving your quality of products. Always say yes to the changes you can make in your products as advancements.
The fabric quality you choose is essential which makes your product integral. The fabric should be supreme quality-wise; it must not lose its shine after washing. It should have enough strength and be endurable.
In the retail world, these are four common choices
Print on demand.
Custom cut and sew.
Private label clothing.
Dropshipping.
(3)- Domain Name & Logo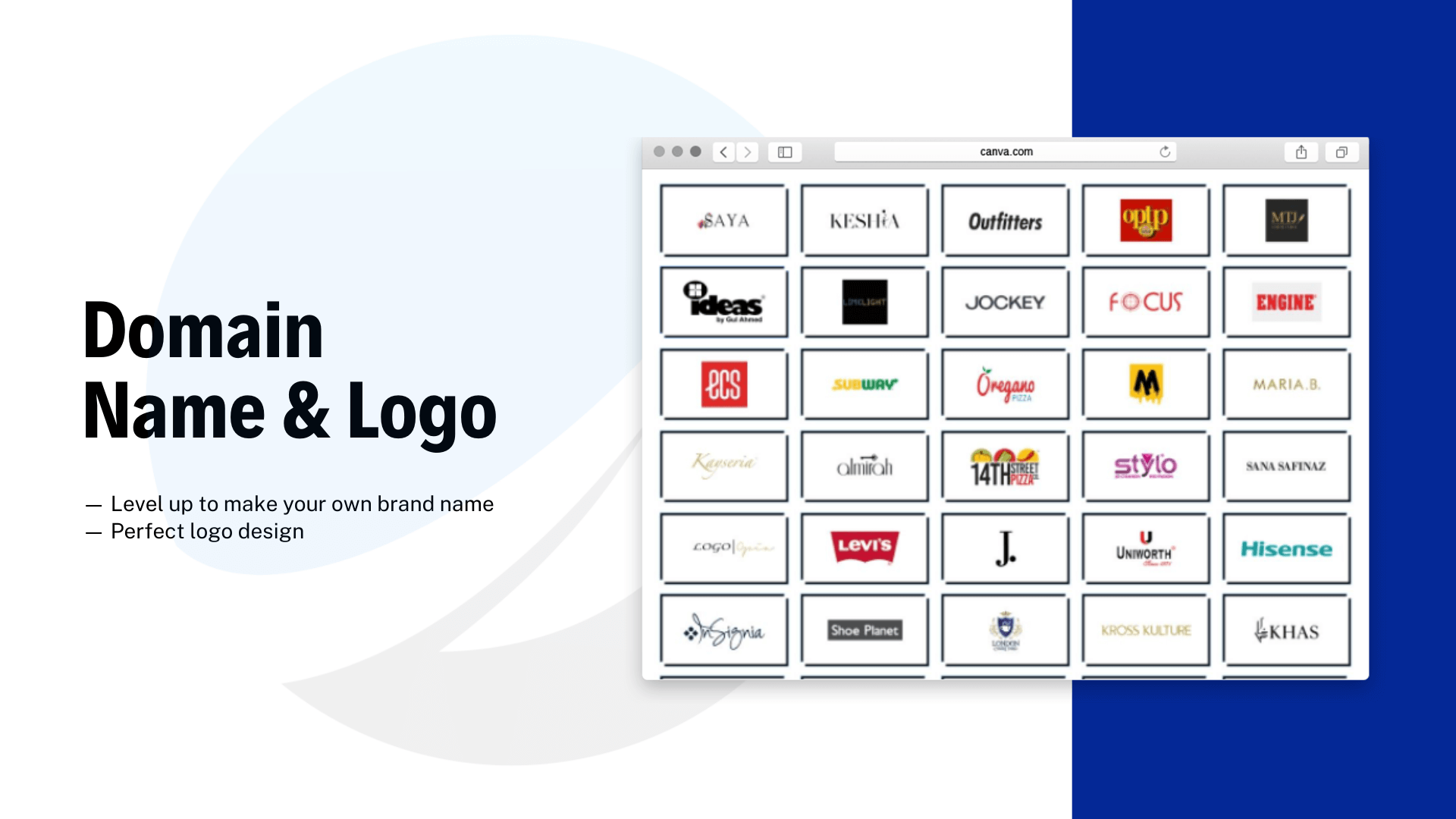 — Level up to make your own brand
Domain and Naming the brand is as important as developing the clothing line. The name must depict your niche target. It must have an emotional value when your target customers first time hear about your brand name what influence it creates. Add an aesthetic value to your brand name. Hit the customers' emotions as much as possible. It is all about psychology hacking. You can add that integral specific value by knowing the needs of your customers. For a perfect domain, you have to follow these things.
Avoid hard-to-spell names.
Choose a name that is scalable.
Be unique.
You can hunt and decide meaningful domain and names for your own clothing line by visiting other clothing brand names just to get an idea about how a brand name should sound like. Make an organic brand name so that your clients may find you conveniently. It is important to make your brand name readable easily and organic for your customers.
Now let's talk about the visual of your brand the Logo. It is very crucial what your logo sends out the message to your target audience. It must communicate the most important things about your brand.
(4)- Choose an e-commerce platform
— Online market presence by web development
It is essential to level up by investing in web development. It is very important to reach out to your customers via social media platforms. Make more aesthetic and attractive emotionally targeted slogans for online campaigns through social media platforms. You need to read the psyche of target customers to make targeted punch lines and have catchy tag lines to attract customers. It is an investment which worthful for your long-term online clothing business establishment.
You can also try for billboards for further branding of your fashion business to advertise. Try to make a mobile-friendly web presence so that more audiences can listen to you and you can deliver your message to more target audiences.
Next, the most important decisions you will make while creating a clothing store online.
That is your website, its design, and responsiveness to show the clean product listing for selling and shouldn't be rushed.
The most usable eCommerce platform for store buildings are:
Shopify
WooCommerce (WordPress)
Magento
Webflow
Wix
after creating a beautiful website for your brand-new clothing store, you need to list your products on it. You have to follow these steps while creating the list of products to optimize according to the search engine.
— List Your Products :
Follow these steps to list products
Product descriptions.
Product display.
Navigation.
Checkout.
Search.
(5)- Publish and Market Your Clothing Store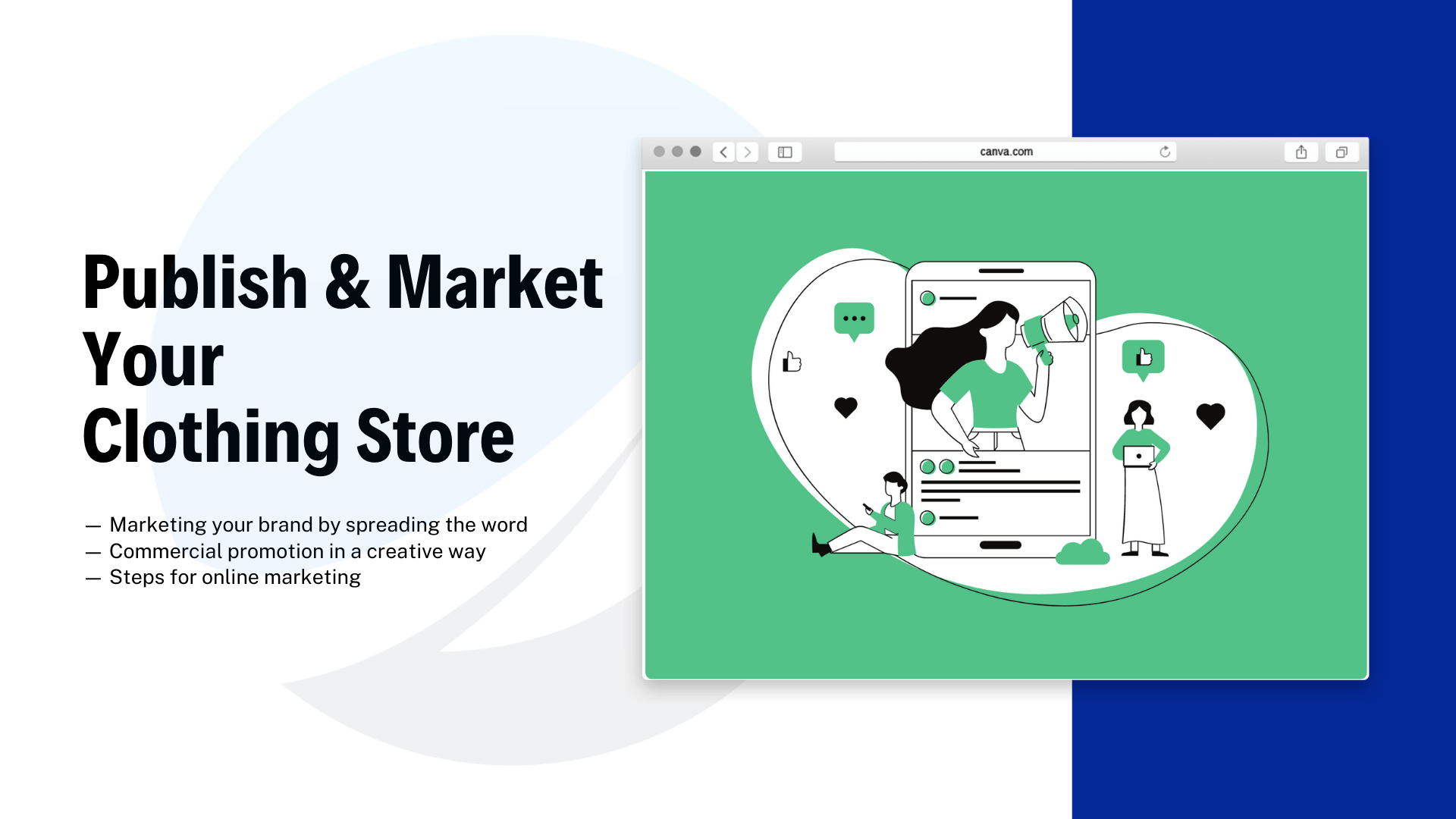 — Marketing your brand by spreading the word
Marketing is interlinked with advertisement through social media platforms. The marketing and advertising campaigns are as necessary as other important factors are. Blog about your brand. Take the best of the pictures of your products for blogging. Packing up finished products in the best way possible leaves an impact. What it all takes is enough investment for your brand website.
Give some additional benefits to your customers and the opportunity to exchange the products if they don't like the previous ones. Give weekly discounts and monthly discounts on your online clothing business.
— Commercial promotion in a creative way
Expert photography of your product plays an important part in commercial promotion. Try to make more relatable, creative and catchy ads for your customers. If you want to lead for the long term in the fashion world, just be organic and be the best communicator in order to deliver messages through ads that directly hit customers' minds.
Search and explore more and more and don't overlook the feedbacks from your customers. You can pay your positive feedback givers and ask them to review your clothing products. You can have the best products but if you overlook the best clicks of your products, it will leave you disappointed. So never overlook this step and have the best clicks of your products with each and every detail as advertising is a great step to have the promotion of your clothing line products.
Intensify your brand by projecting theoretical and the most meaningful messages for your customers. It is best for customer attraction. You can put the stories on social media platforms about the best feedback about your products from the customer side. Also, make available feedback visit options on your website. Share more and more feedback from customers to attract more customers.
— Use these tools for online marketing
Email marketing tools.
Social media marketing.
Content marketing
Search engine optimization (SEO)
— Additional quick tips to promote clothing line business
Reach the extra mile in your clothing line journey. Assess at which milestone you will reach after 1-2 years. Do compare your success with other running clothing brands.
Follow creativity in your work make it an integral unique part of your brand. Make innovations day by day. Don't stick to just one design but do create more and more to build your brand effectively.
Tips & Tricks
— Develop your brand by trade credit
Trade credit is an undeniable strategy to scale up the fashion business. It provides flexibility to your customers. It gives another kind of relaxation when customers have the satisfaction that they can exchange their product if they realize the product is not suitable for them later on. Therefore, building trade credit is a must-have strategy. It establishes a long-term relationship with customers.
Moreover, it is inevitable to invest in tools that will surely help in promoting online campaigns. Use the innovative technologies to meet the online selling mission. Invest in SEO too for web presence promotion. It must be mobile consumers friendly so that most of the customers can be targeted.
— Build a wise investment plan to start online clothing business
Preplan the roadmap of your financial investment. You need to evaluate the risk-benefit ratio. Because all kinds of businesses carry riskless or more. It is not about less or more investment but about investing in the right way in the right direction.
Do consider your backup plan.
It's important to have a plan B always so that backup is always there. If you do have not enough experience don't start with heavy investment. Start with minimum. Have experience, make up your weaknesses for next time investment plans. Make amendments if needed in any plan. Embrace the changes coming through your clothing line journey, so be flexible. Create a team for having the best teamwork. Gather the team of the same interest.
You can also find partners for the investment which will lead to building a strong team and will add strength to your fashion business. Make partnerships with reliable and experienced persons so that your clothing line may grow at a faster pace.
— Give best direction to your sales goals
For this purpose, you surely need a partner who can assist in achieving sales targets and who can have the best knowledge about sales. Mind that teamwork is dreamwork so never hesitate to build a team for achieving sales targets.
— Evaluate your competition in market place
You must have a strong idea about what are the competing brands in online clothing brand's market. These updates are must to have if you are a newcomer in this market. Having strong knowledge about the competitors will give you brainstorming more and more ideas. It will yield more productivity and creativity to start your own fashion brand. Get the latest updates about the best brands running so that you can reach your maximum potential. Keep reading the updated blogs about top Fashion brands.
— Design different seasons collection
The way to have the best ideas is to have more and more ideas. Brainstorm and go for diverse collections according to different weather conditions. Design different season collections. It will add more variety to your collection and more space to work creatively and more room to work showing your aesthetic brand.
Conclusion
The short summary and quick tips to run a successful clothing business online.
Simplify your menus
Prioritize SEO
Have engaging web design.
Provide popular payment options
Advertise where your audience is
Starting any kind of business can be risky, but when we talk about online businesses like online clothing brands then the sales market is a good place for startups. With the flexibility in business models and trends, there are always chances for you to grow. The advantages of an online clothing business include flexibility in an affordable way, an easy recipe for success, ease to start and ease to run. If you still When backed by the perfect e-commerce platform and a strong business plan, there's never been a better time to bring your clothing store dreams to life.
Final Words:
We believe that you get the whole idea and understand the whle process to open your own clothing brand online. This is professional step-by-step guide created with the help of professionals and business gurus. The aim of this guide is to motivate and gives proper knowledge but if you need the help of consultants to open your brand,
We are here.
In case of any query or need consultancy send mail to "Info@Consultance.Online".
If you are too busy with something else and want to hire someone who can start, maintain, establish, market and run a successful online clothing brand for you then Consultance is here to help you. We have a team of professionals who can establish your clothing brand on your behalf.

On the other hand, Consultance also assists you to run the franchises of already existing and established brands in Pakistan.
Click HERE For Franchise Opportunity
Click HERE For More Info