Introduction: Clothing Brands
Clothing defines the entire personality of anyone and an expression that tells how you see and feels about yourself. The person with trending fashion sense is always conscious about the related clothing brands to fulfill fashion requirements. This is top list of clothing brands in Pakistan 2022 to choose the best outlet for your personality. Shopping four times a year and fill up the wardrobe with seasonal clothes from known brands.
In the present era, people involving more and more in shopping with famous clothing brands in Pakistan. One of the reasons is the promising discounts and sales on Pakistani brands. If we talk about the quality there are multiple international brands having the best quality products and millions of sales per day but the local brands working as competitors with copied products and unfortunately somehow they gather some success in it.
How Clothing Brands Works?
Brands transform simple and pattern clothing into advance, stylish, and trendy. Every clothing business name comes up with a special idea of clothing and launches the trends dressing. They also introduce the global clothing trends and other routine accessories, makeup, footwear as well. The higher cost of products in brands is because of the brand's stylish ideas, business model, and having the vast number of stitched and unstitched clothes.
Best Men & Women Clothing Brands In Pakistan
Clothing brands for both men and women depend upon unbeatable designs, climate conditions and trendy Articles. The core thinking behind the brand's ideas is to boost up the personality by wearing the clothes and they work accordingly. As women more involved in shopping that is why there are a huge number of local and international Pakistani women's clothing brands.
There are multiple fabric types in women's clothing such as cotton, chiffon, synthetic fiber, filament yarm, silk and the most famous lawn offering by brands in Pakistan. Following is the list of top clothing brands in Pakistan for Men and Women based on Consultance research.
Cross Stitch
Nishat
Bareeze
Khaadi
Limelight
Maria B.
Ideas by Gul Ahmed
Junaid Jamshed
HSY
Kayseria
Charizma
Alkaram
Top Clothing Brands In Pakistan 2021
1-Gul Ahmed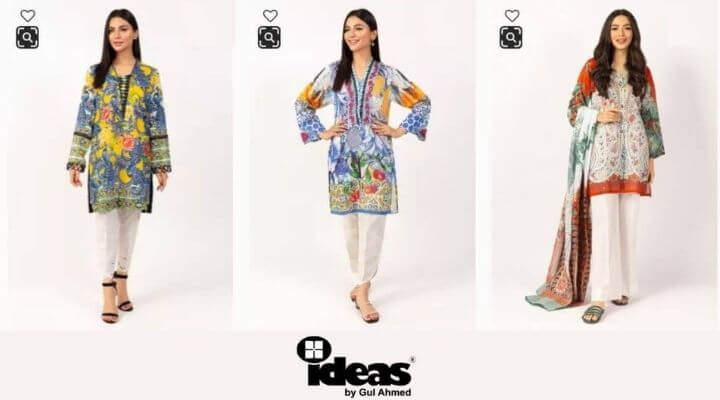 Gul Ahmed Lawn is one of those leading brands of Pakistan that the summer is incomplete without it. Ideas by Gul Ahmed has a great variety of amazing colors which are according to the summer season. Gul Ahmed is one of the leading Pakistani textile providers in the market of the great leading brands. The exceptional about Gul Ahmed that differs it from all other brands is that it always lightens up with a wide range of different designs and amazing colors. This summer season you will enjoy the season by both simple and chiffon lawn by the Gul Ahmed.
2-Sana Safinaz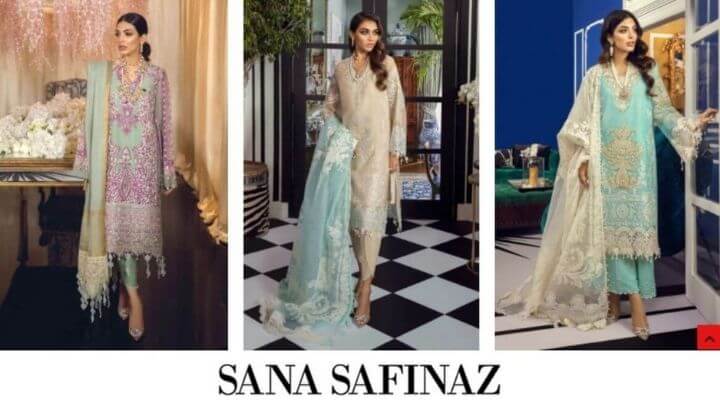 Sana Safinaz is one of the leading fashion brands in Pakistan. The quality of their fabric is very high and pure as it is made of pure thread. Their main focus is to enhance the cultural beauty of Pakistan also giving the western touch to their outfits. Sana Safinaz has a wide variety of summer and their winter collection with ethnic styles and elegant colors. The colors combination of their dresses is all according to the needs of their customers which adds beauty to their personality.
3-Warda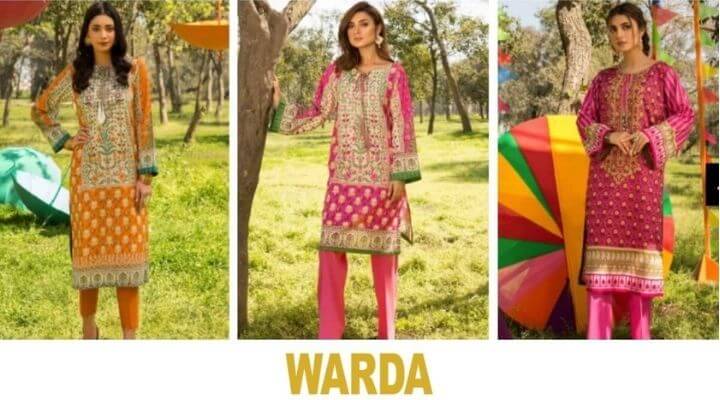 Warda is also in the queue of the leading brand f the country. The collection is very elegant and very different from the others which is a bit affordable and enhances Asian beauty. For its amazing colors blend law collection by Warda Saleem the radiant contrasting patterns made at the borders, sleeves, and neck area brighten up the base colors in which red, maroon, orange, purple, pink, yellow, blue, and black, etc are included.
4-Beechtree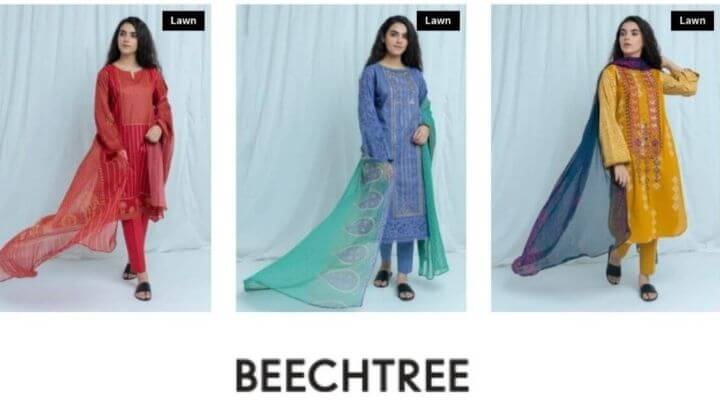 Every wardrobe is incomplete without the amazing variety of the collection of amazing styles of Beechtree. It is one of the most favorable textile industries in Pakistan by a large number of customers. It includes a wide range of funky colors and elegant styles for women and especially for our young generation who wants a large range of designs with a little western touch.
5-Zellburry
Zellburry is another brand in Pakistan which is well known for being remarkable both in term of its amazing designs and hues. The best thing about its clothes is the embroidery which is all about the attention and hard work of our workers which provide the same thing according to the customers need. It consists of a large variety of designs with a vivid collection of dupattas. The prints are so elegant and cool according to summer outfit requirements and also have a wide winter collection range. It also consists of pret variety for the young generation with different color combinations.
6-Bareeze Pakistan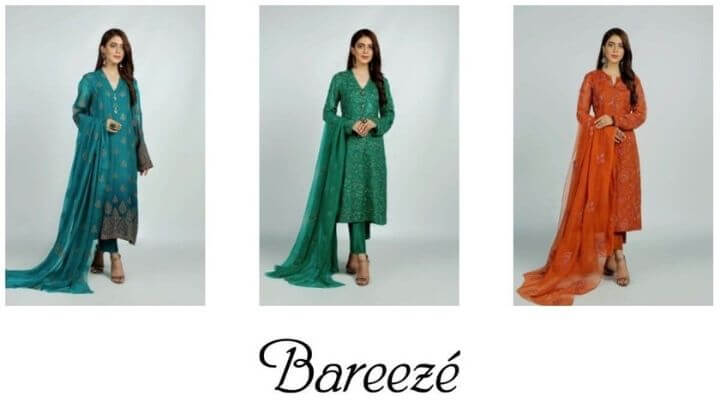 Bareeze is one of the amazing fashion brands in Pakistan. Bareeze's Lawn Collection has been entered the market of the leading brands with its large range of ideas of women, men, and also for children with its elegant style. Breeze Pakistan updated its collection every season according to the demands of the customers. By the hard work Breeze has made its name in the international market too.
7-Ethnic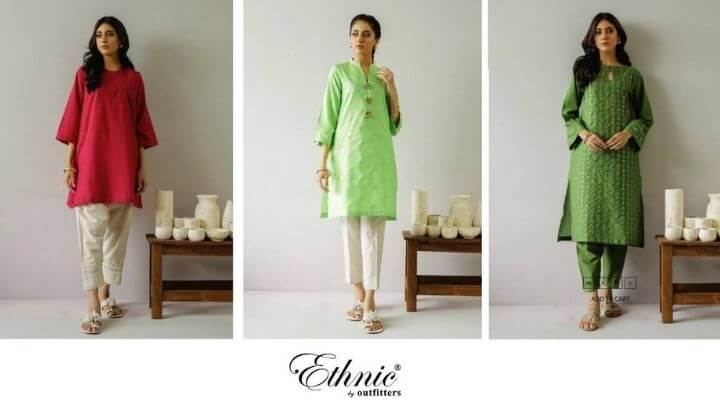 Ethnic is among one of the clothing brand of Pakistan which are also well known in the international market. They have a wide range of ethnic collections for men, women, and our young generation. Their Rozana collection completely defines Asian beauty and enhances the personality of the customers. they provided their customers with a large variety of amazing designs with a combination of bright and beautiful colors.
8-Kayseria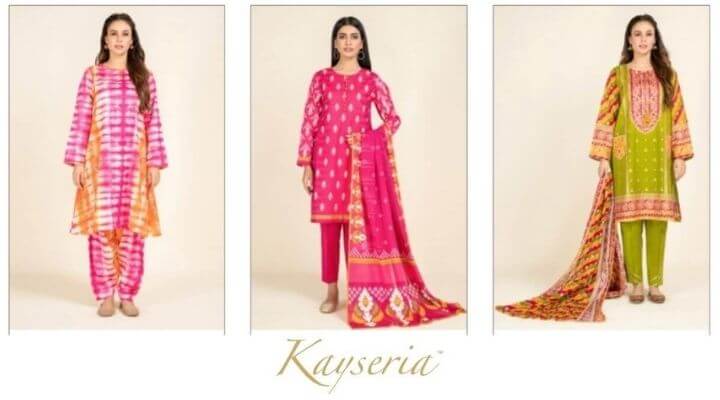 Kayseria is one of the leading brands in Pakistan. They have a wide variety of amazing collections for women that enhance Asian beauty by their elegant styles and a large variety of amazing colors. In a very short time, Kayseria has made its name among the large fashion industry of the country. They provide their customers with high-quality pure fabric with elegant designs.
Kayseria pk is one of the leading online fashion store in Pakistan. Providing you with the latest hand-made embroidered styles of clothes, reflecting the traditional Asian beauty. They design their clothes accordingly that when a normal women wear that dress it automatically enhances her beauty and confidence. Their inspiration is a collection of traditional clothing which is worn by every kind of woman all over the country. By their hard work and great team-up coordination, they prove themselves among the leading fashion brands and provide the best to their customers. They have a large variety of stitched and unstitched collections with the pret wears too for women and kids which are made up of high-quality pure fabric with also hand-made embroidery to drag up the attention of their customers.
9-Sapphire
Sapphire the leading brand of the fashion industry of Pakistan. Proving their customers with a large variety of elegant styles with the combination of ethnic colors enhances the beauty of every Pakistani woman and also adds confidence to their personality. They have a big collection of collecting for men, women, and children and also provides pret variety for the young generation.
10-Al Karam Studio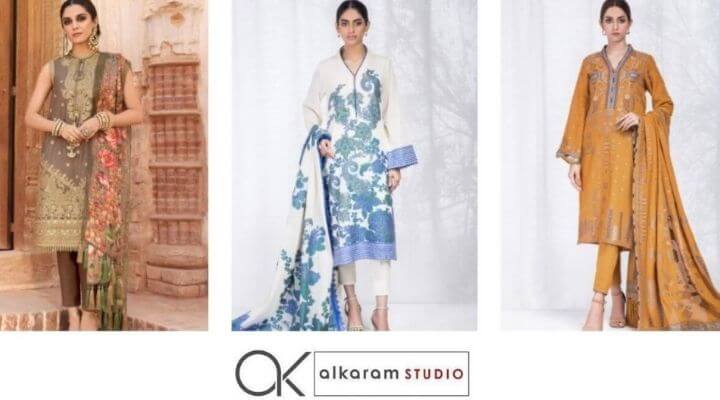 Al Karam studio is providing you with a large collection of amazing styles and luxury collections enhancing the beauty of every woman with a large number of bright colors. They have their Mack collection for the young generation comprised of different styles and funky colors.
National & International Clothing Brands
There are multiple brand franchises working in Pakistan and delivering international clothing fashion.
Leisure Club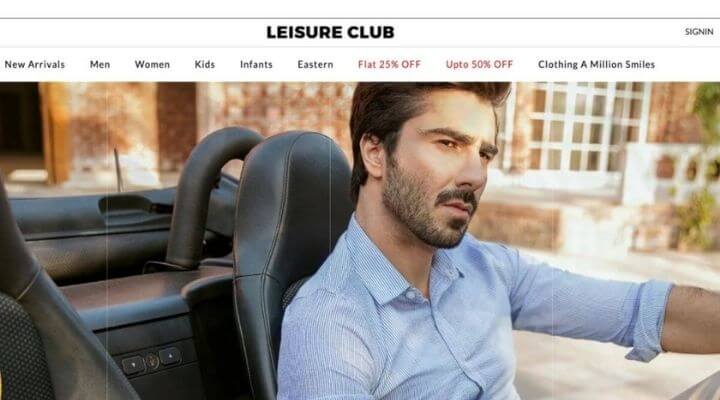 Leisure club, formed in 1997. It is included in the leading brands of Pakistan. Their main focus is to provide classy, beautiful, and sustainable products . their main goal is to combine trendy fashion with the high-quality material of the fabrics. The Brandfocus on modern wear with sustainable designs and fusion colors to enhance the beauty of their customers and add more confidence to their personalities.
They also provide you with the best shopping experience with amazing outfits. They have done great teamwork to provide the customers with their best and because of this hard work and amazing ideas they are well-known all over the country. This brand provide their customers with the best quality and authentic styles of outfits with the fusion of elegant colors. . Leisure Club is very conscious by taking care of customer satisfaction and product quality with trending clothing articles.
Jockey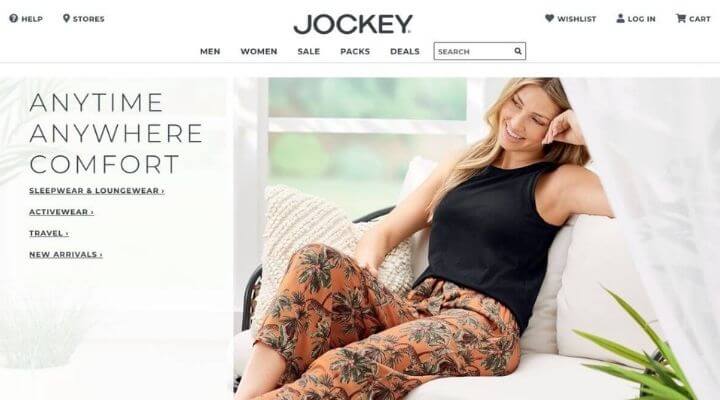 Jockey the famous men's brand of the USA founded in 1876 and spread very quickly all over the USA and now has a great name nationally and internationally. It mainly focuses on menswear especially undergarments and also has a great variety for women too.   Presenting you the amazing night wears for men and women with the latest and trendy looks. By their great teamwork and day-night hard work, they are providing you with the best variety of outfits with amazing styles and incredible colors.
Their brand name and their reputation are very important to them that's why they never compromise on the quality of their outfits. Their main focus is to catch the attraction of their customers by their different styles of outfits. Jockey is an international clothing brand with a great reputation in the clothing industry.
Naura
Presenting you Naura ( The Lawn Lifestyle ) a multi-brand store newly launched in Pakistan. The most leading brands of the fashion industry like Coral by Cross Stitch, Imperial textiles, Zareen, Rang, and Saffron are included in it which are already included in well-known fashion brands of Pakistan. The brand Naura highly focusing on the Asian beauty of our country and provide women with their best and elegant styles which enhances their beauty and confidence. It is also highlighting the traditional styles with elegant colors to provide their customers with the best quality of fabric with authentic styles and ideas with a mixture of fusion colors. They are lunching first time in Pakistan, with their hard work and great teamwork they will prove themself in leading brands of the fashion industry.
Keshia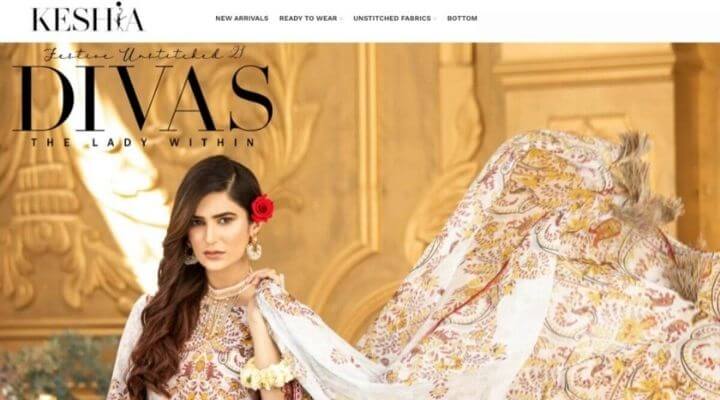 Keshia formed in 2016 as one of the leading brands of Pakistan. It is a brand that reflects modern women of today's elegant fashion and trendy styles and the products are hand-made embroidered styles. They provide you with a large range of fashion and clothes with a mixture of beautiful colors for women and kids offering them a vast range of pret and unstitched styles of pure fabric.
They work very hard to jump up in the race of high fashion clothing brands and make their name by great teamwork and newly trendy ideas and styles. keshia believe that their customers are that fuel and drive of their passion which helps a lot in developing the best range of colors with elegant designing with beautiful embroidery which is close to perfection.
Focus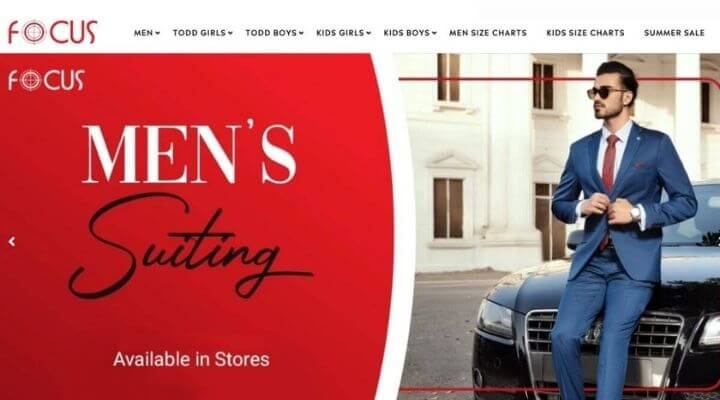 Focus is one of the famous clothing brands of Pakistan. They provide you with the latest stylish western men's wear in the country. Giving a large range of amazing western wear especially for men, having also an incredible range of fusion colors for toddlers. The quality of their clothes is very sustainable and they use pure and original fabric. By the hard work and great teamwork, they proved their name among the leading brands of the country.
The style of their outfits is so amazing that add grace to the personality of men and raise their confidence. The dresses are designed according to the taste of the young generation with elegant colors. Their main focus is to catch the attraction of their customers by their different styles of outfits.
Clothing Brands Franchises in Pakistan
To maximize your investment by taking the franchises of international and Pakistan top brands is a great business. You have to follow the brand's policy and you can easily get the license of the brand's franchise. In most cases, Brands give 30% to investors and relaxed with policies. They also provide the facility to market their own franchise you are holding as investors.

Who We Are?
Consultance is a leading franchise consultant company in Pakistan, which gives maximum brand franchise opportunities to clients with complete consultancy and franchise selling opportunities to brands as well. We help investors from the starting point to execution by facilitating from providing Brand Policies to contract sign.
Following is the list of our core services for Investors who wants to invest in clothing business/line
Brand & Business Development
Free Initial Consultancy
Space Acquisition
Business Consultancy
Brand's Digital Marketing
If you are Interested In a clothing Brand Franchise We will not only guide you but help you in brand development. Consultance provides the opportunity of Clothing, Footwear, Cosmetics, Fashion and Educational franchises by simply filling up the Franchise Opportunity Form.
Final Words
These brands are not only national outlets but international outlets as well such as jockey. If you want to put your hands in clothing business and open an existing clothing brand then you must research first. It is a research-based article on the List of top clothing brands in Pakistan 2021 inspired by Pakistan Clothing. This list is authentic because of business development strategies and sales of brands.
You can join the community by suggesting the most options in the comments and share your valuable thoughts.